Square piano Gunther&Horwood, London c.1822
Museo Pueyrredón
San Isidro - Prov. de Buenos Aires - Argentina
Restaurado por el luthier / Restored by the early keyboard musical instruments maker
Leopoldo Pérez Robledo
http://www.lpr-luthier.com.ar
(Buenos Aires, diciembre 2009 - abril 2010 / December 2009 - April 2010 )

Estado del instrumento, previo a la restauración /
State of the instrument, prior to restoration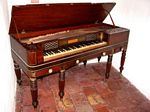 Este típico pianoforte rectangular Nro. de serie 3902, construído por Gunther&Horwood, Pianoforte makers, 31, Little Queen Street, Holborn, UK, c. 1822, tiene una inscripción de restauración previa firmada por José Sampaio, el 15 de junio de 1904.
En esa intervención, aparentemente se le reemplazó el encordado, se reemplazaron tres bisagras de cuero de sendos martillos y aparentemente, en ese momento o en una intervención posterior, en que probablemente se restauró el lustre, se encolaron las 8 patas roscadas, quedando así fijas.
A lo largo de la vida del instrumento, perdió su pedal del sistema elevador de apagadores, el atril plegable y la tapa guardapolvo (verde) que va ubicada por encima del plano del encordado, tres martillos y cinco apagadores. /
This typical square fortepiano, Serial # 3902, built by Gunther & Horwood, Pianoforte makers, 31, Little Queen Street, Holborn, UK, c. 1822, has an evidence of previous restoration signed by José Sampaio, June 15th 1904.
In that intervention, apparently the strings were replaced, three hamer's leather hinges were replaced and apparently, in that time or in a later restoration, the case and lids were re-polished and the eight threaded legs were glued, thus being fixed to the bottom.
Over the life of the instrument, it lost his dampers elevator system pedal leg, the folding music desk and dust cap (green) which is located above the plane of the strings, three hammers and five dampers.
Ir a / Go to
Proceso de restauración / Restoration process