Erard Gothic Harp, c. 1850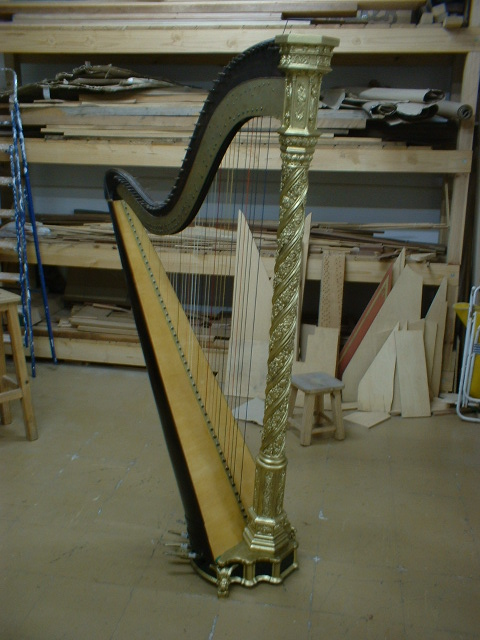 Restaurada por el luthier / Restored by early keyboard musical instruments maker
Leopoldo Pérez Robledo
www.lpr-luthier.com.ar
(Buenos Aires, diciembre 2008-mayo 2009/ December 2008-May 2009)
Asistente / Assistant: Matías Crom ( http://matiascrom.blogspot.com/ )
---
Una buena biografía de Sebastián Erard se puede encontrar en: http://www.uk-piano.org/history/erard.html (S. Erard biography)
---
Proceso de restauración / Restoration process:
El arpa presentaba un deterioro irrecuperable de la tabla armónica, intervenida anteriormente en por lo menos dos oportunidades. La primera en 1885 y la segunda muy posteriormente, bastante desafortunada. El instrumento permaneció un largo tiempo en un galpón de campo, apoyado sobre la tierra húmeda. Fue severamente atacado por insectos y la madera de la base de la caja se degradó en gran medida. / The harp shown an irreversible damage of the soundboard, with at least two previous inteventions. The first in 1885 and the second, less fortunate, very much later. The instrument remained a long time kept resting on the wet ground in a rural shed. It was severely attacked by insects and the wood of the low and back part of the harp body was largely degraded.
Desarme del instrumento / Desassembling all parts .
Desmontado, mediciones y etiquetado del encordado, y elaboración de una lista de sus características actuales / Desassembling, measurements and labelling of extant strings, and making of an extant stringing list.
Limpieza general de todas sus partes / Cleanning of all parts.
Descolado y desarme completo de todas las partes de la caja y tabla armónica. / Ungluing and desassembling of all parts of the case and soundboard.
Reparación de la parte interna de la caja, puertas posteriores y su sistema de apertura. / Restoration of the internal part of the body, back doors and opening system.
Reemplazo de la tabla armónica por una nueva de pino abeto radial. / Replacement of the soundboard by a quartered spruce newone.
Instalación de las molduras centrales originales recuperadas, refuerzo interno central y nuevo barreado en la tabla armónica. / Installing the recovered original central moulding and back central stifener, and new ribs in the soundboard.
Reparación del clavijero, horqullas, guías y mecanismo de los pedales.. / Restoring of the wrestplank, forks, guides and pedal action.
Armado y encolado de todas las partes de la caja y fondo. / Assembling of all parts of the case and bottom.
Reparación y refuerzo de la parte externa baja posterior de la caja. / Restoration and reinforcement of the back lower external side of the body.
Restauración y encolado del block interno de la base de la caja. / Restoration and glueing of the bass internal block.
Encolado de la tabla armónica en la caja. / Glouing of the soundboard in the body.
Restauración de la base de la columna. / Restoration of the base piece of the column.
Restauración del dorado de la columna y otras partes decoradas. / Restoration of the guilded column and decorative parts.
Lustre de las partes de madera a la vista. / Polishing of the wooden parts in sight.
Encordado. / Stringing.
Regulación de acción de pedales. / Pedal action regulation.
Reinstalación de base de apoyo y guía de pedales. / Installing of the base piece and pedals guide.
Afinación al pitch de época, a'= 392Hz, para prueba de uso musical del instrumento. / Tuning the harp to musical use test at the age's pitch of a'= 392 Hz.